Apartament Zielony Widok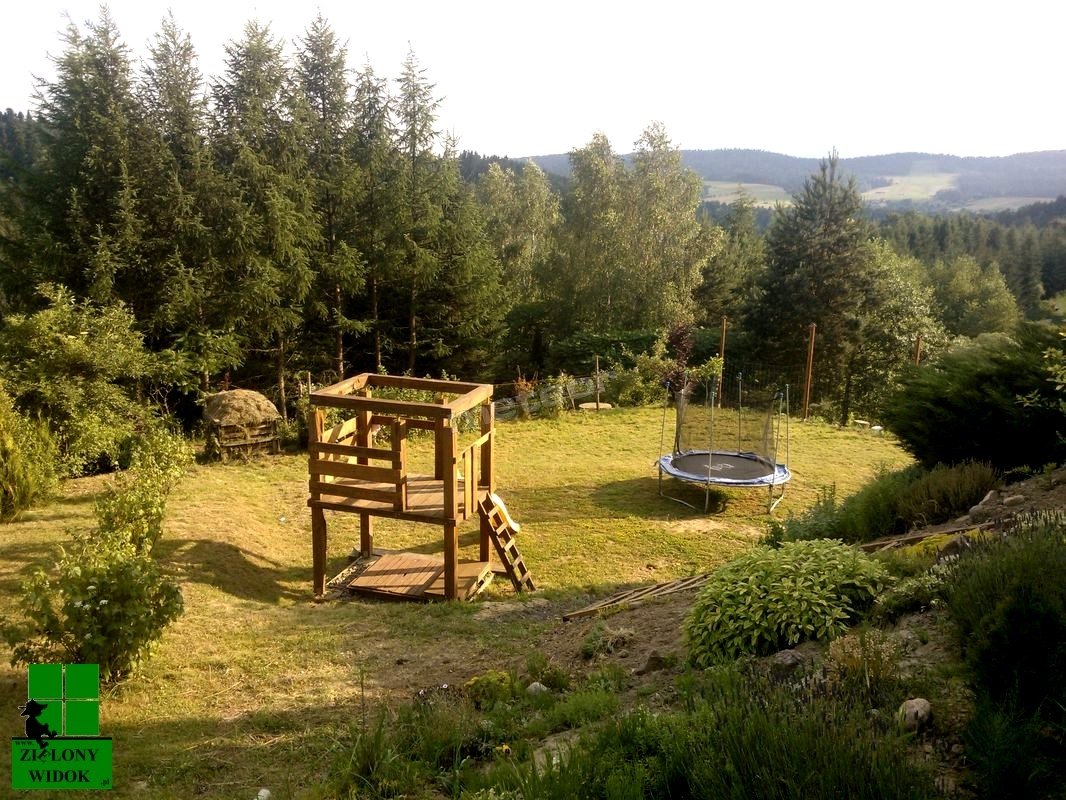 Kontakt: Centrum Informacji Meteor,
czynne w dni robocze: 8.00 - 16.00
703 400 440, 708 477 500
(cena za minutę połączenia 2,58 zł brutto)
tel. kom. 692 066 942
address
ul. Zielona, Lesko, podkarpackie
gallery
Prices - additional information
we offer
room type
number
price [PLN]
apartment

for 5

person(s)

1

180

-

200

/

apartment
Apartments
Apartment with separate entrance.
Apartment consists of: 2 rooms, kitchenette, bathroom, anteroom, terrace.
Apartment is equipped with: wireless Internet access (Wi-Fi), TV.
No smoking in the apartment.
About us
On the premises parking lot.
Additionally on the premises place for bonfire.
Our attractions
For children play-ground, trampoline, sandpit, swings.
Nearby attractions
For the active guest: hiking trails, ski lifts and slopes, glider flights.
Location
The facility is located in the quiet surroundings.
hobby
grzybobranie
Nasz apartament zlokalizowany jest obok lasu mieszanego, który porasta przeciwległą górę Czulnię. Z grzybów można zbierać maślaki (modrzewiaki - na naszej działce pod modrzewiami), rydze i kozaki. Warto też skubnąć dzikie jeżyny i maliny.
narty
Na przeciwległym stoku znajduje się wyciąg narciarski LeskoSki Weremień. Widać z tarasu naszego apartamentu. Szczególnie wieczorem, gdy jest oświetlony, prezentuje się bajecznie (taka droga do nieba). Jest to idealne miejsce do nauki jazdy zarówno na nartach, jak i snowboardzie. Ten typowo rodzinny stok narciarski jest niezwykle bezpieczny, zaś trasy są szeroko rozbudowane. Składa się z dwóch biegnących równolegle nitek o łącznej długości 1430 m (trasa 1 – 680 m, trasa 2 – 750 m). Prędkość wyciągu może być dostosowywana do potrzeb narciarzy (przykładowo wolniejsza dla dzieci itp.). Stok, na którym położone są wyciągi jest oświetlany, sztucznie naśnieżany i sukcesywnie ratrakowany. Nie ma kolejek lub są niewielkie, gdy tylko się zjedzie, to praktycznie od razu się wyjeżdża. Na jego terenie znajdzie się również specjalnie wytyczone miejsce na saneczki. Natomiast do dyspozycji snowboardzistów został wykonany snowpark z profesjonalnymi przeszkodami. Jest wypożyczalnia sprzętu narciarskiego, szkółka narciarska i szkoła snowboardowa. W apartamencie Zielony Widok również mamy do wypożyczenia 3 pary nart, 5 różnych rozmiarowo par butów i dwa kaski.
rowery
W obiekcie do wypożyczenia są trzy rowery: męski, żeński i dziecięcy. W sąsiedztwie obiektu przebiegają trasy Zielony Rower. Z reguły są to trasy asfaltowe. Dla naszych gości przygotowaliśmy alternatywne trasy leśne i górskie.
apartments in the neighborhood
accommodation in the neighborhood
Ciekawe miejsca w okolicy
Mogą Cię również zainteresować ...
accommodation Lesko vicinity