School Youth Hostel in Bydgoszcz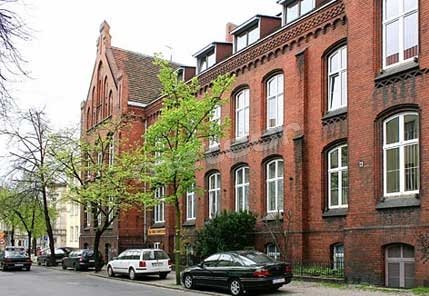 address
ul. Sowińskiego 5, Bydgoszcz, kujawsko-pomorskie
gallery
Prices - additional information
we offer
room type
number
price [PLN]
features
room

for 1

person(s)

3

53

-

82

/

person

lux

room

for 1

person(s)

6

53

-

64

/

person

room

for 2

person(s)

7

22

-

43

/

person

room

for 3

person(s)

3

22

-

43

/

person

room

for 4

person(s)

3

22

-

37

/

person

room

for 6

person(s)

2

18

-

33

/

person

room

for 8

person(s)

3

18

-

27

/

person

room

for 12

person(s)

2

18

-

27

/

person
Night's lodging 18-82 PLN per person.
Additional information: prices depend on the type of a room, prices depend on number of persons.
Rooms
Some rooms with bathrooms.
Some rooms are equipped with TV.
About us
At guests' disposal: generally accessible bathrooms, fully equipped kitchen, dining room, satellite TV, common room, wireless Internet (Wi-Fi).
Location
Restaurant 100 m.
Parking lot 300 m.
To the swimming pool 700 m.
The railway station 500 m.
accommodation in the neighborhood
Ciekawe miejsca w okolicy